Facebook++ iPA is a great alternative to the famous Facebook Wolf modded application. Also known as FB++ is an old tweak of the stock Facebook application for iOS devices. With support for iOS 15 it is a powerful new tweak that adds extra features that a user always wants, like downloading videos, messages unseen function, setting up touch ID or FaceUnlock security for Facebook and much more. It basically removes all the limitations and restrictions from original app. You can download and install the latest version without Jailbreak or Cydia.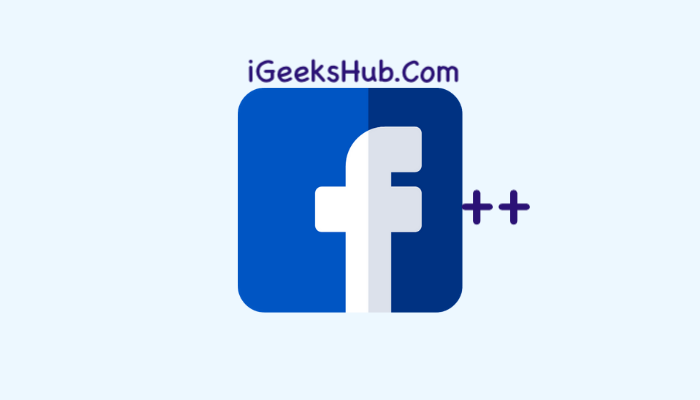 Facebook++ IPA for iOS 15 and iOS 14 performs the same functions like Youtube++ and Instagram Rhino, giving additional features for a great user experience. Facebook++ ipa (IPA) can be downloaded from the link below and installed with the give method. Don't get fooled by other websites with clickbait titles, get the working modded app here for iPhone and iPad without Jailbreak.
A great number of other iOS tweaks for social websites are present like Instagram++, Spotify++ and Whatsapp++. Have a look at them also.
Facebook++ (FB++) –

Features
Facebook Plus (FB++)  iOS 15 offers great many features as described below. It is a standalone application and not an add-on for the stock app.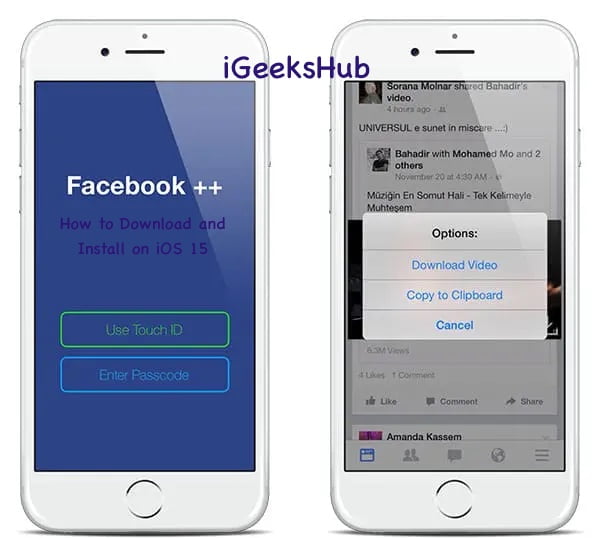 Download videos to iDevices files (storage).
Copy videos and images to clipboard and paste anywhere.
View recent photos instead of popular ones in news Feed.
Protection of FB app is now possible with Touch ID, Passcode or FaceID.
Hide selected tabs in home.
Disable videos autoplay by default in Facebook.
Fullscreen Mode.
Messenger enhancements include:

Send Unlimited Phots.
Use messenger inside FB++ app.
View time stamp.
Disable seen status.
Disable online status.
View story without marking as seen.

Old FB app sidebar navigation re-added.
Support for all iOS Versions till iOS 15.x.x.
Advertisements blocker. No ads on Facebook.
No Jailbreak or Cydia needed for installation.
You can find out much more by trying it for yourself. Just like whatsapp watusi 3 it, you can access wanted features like above while using Facebook on your iPhone or iPad. One of the best and most rated Facebook++ Tweak for Apple devices in 2023.
Facebook++ iPA – Details
Here is a general info about the Facebook++ iOS 15 (2023). Check it out before moving to our download section and method to install it on iPhone or iPad.
App Info:
| | |
| --- | --- |
| Developer | – |
| Version | 307.0 |
| Size | 229 MB |
| iOS Version | iOS 13, iOS 14, iOS 15.x.x |
| iDevice Model | iPhones/iPads Supporting iOS 13/14/15 |
Apple's Appstore Link:
Facebook Wolf iPA Download
Download Facebook++ for iOS 15 iPA using the following Link. After download is complete, follow the instructions given below to sideload/ install it on your iPhone/iPad without Jailbreak or Cydia.
How To Sideload/Install Facebook++ iOS 15 on iPhone/iPad no Jailbreak
Here is a brief and short method on how to sideload FB++ iPA app successfully on iOS 14 and iOS 15 devices without Cydia or Jailbreak (2023).
Requirements:
A Mac OS or Windows PC
Working Internet Connection
Apple Account/ID
Sideloadly Method:
Download and Install Sideloadly on your Mac or PC.
Run the app and Connect your device to your Mac or PC. You'r device will show up in iDevice.
Under Apple Account type your apple id email.
Drag your Facebook++ IPA file which you downloaded into the sideloadly window. You can also select using the large IPA icon.
Click on Start. You will be prompted to enter your Apple ID Password.
Enter the password (A verification code may be received on a trusted device.
Note : Your password is encrypted and is only sent to apple, however, I recommend you use a spare or alternate apple id.
The IPA will now start installing on your iPhone, iPad or iPod.
After installation go to Settings > General > Profiles and Device Management for iOS 14 and below or VPN and Device Management for iOS 15 and up.
Select the Apple id and Trust it.
Now go to your home-screen and launch the app. Enjoy.
Altstore Method:
Use Sideloadly for a comparative easy installation !
Download the iPA file from the above link and place the downloaded file on your iPhone (Files App) using iCloud, Airdrop or any method.
Now download and install Altserver on your MAC or Windows PC.
Right Click on Altserver and select "Install Altstore". Sign in with your Apple ID and Password. Altstore will begin installing on your iOS.
Open up Altstore and navigate to "My Apps". Now tap on Plus on the top left corner and open the downloaded Facebook++ iPA file.
When prompted, sign in again with your Apple ID.
Keep your iPhone connected with Mac or PC until the installation is complete.
Done, you can now see the application installed on your iOS Device.
FAQs
Altstore Faqs
If you see ""Please sign in with app-specific password", this means you have two factor authentication enabled and you have log into your account. Then create an app specific password to continue.
Altstore can install apps without the need for a Developer Account.
Non developers account used will have the app expire in 7 Days, but Altstore will automatically re-sign it when you connect your Phone to PC.
App will have no iCloud and Push Notifications Support.
Free version of Altstore can only sign 7 Apps. Once signed you cannot delete them. However, they will be automatically deleted/unsigned after 07 days.
Support for push notifications or add-ons will take up one app signature ID.
Is Facebook++ iPA available on AppStore?
No the app is not available on the AppStore since it is third party and Apple does not allow unverified apps which make changes to the stock Apps.
Can I get Facebook++ on iOS?
Yes, above is the method and download link to the file using which you can install it within 5 minutes.
Is Facebook++ IPA an Add-on to the Stock FB?
No, this is a standalone separate application with same Facebook like user interface but with many additional features.
Is FB++ for iOS a Real App?
Yes, it is a real app/tweak developed by which you can get additional user demanded features for FB.
Is FacebookPlus for iOS Free? 
Yes, it is completely free. You can download it from the link above and install it without Cydia using our method with Altstore.
Does It require Jailbreak?
No, it can be installed without Cydia using Altstore (for users) and Cydia Impactor (for developers). However if you have jailbreak then still you can get this application. You just need to have Appsync for iOS installed on your phone for signing Facebook++ (Plus) Application.
Thats about it. If the app is not working you can contact us or write in the comments section. Leave an app review and comment about what problem you faced.